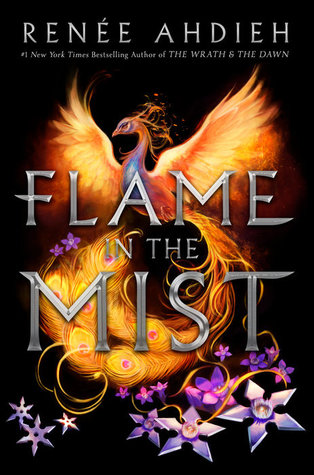 Goodreads Synopsis:
The only daughter of a prominent samurai, Mariko has always known she'd been raised for one purpose and one purpose only: to marry. Never mind her cunning, which rivals that of her twin brother, Kenshin, or her skills as an accomplished alchemist. Since Mariko was not born a boy, her fate was sealed the moment she drew her first breath.
So, at just seventeen years old, Mariko is sent to the imperial palace to meet her betrothed, a man she did not choose, for the very first time. But the journey is cut short when Mariko's convoy is viciously attacked by the Black Clan, a dangerous group of bandits who've been hired to kill Mariko before she reaches the palace.
The lone survivor, Mariko narrowly escapes to the woods, where she plots her revenge. Dressed as a peasant boy, she sets out to infiltrate the Black Clan and hunt down those responsible for the target on her back. Once she's within their ranks, though, Mariko finds for the first time she's appreciated for her intellect and abilities. She even finds herself falling in love—a love that will force her to question everything she's ever known about her family, her purpose, and her deepest desires.
I greatly enjoyed Ahdieh's first series, so when I saw she had a new one coming out, and that it was marketed as a Mulan retelling, I was all over it! I was not disappointed. Though I felt the story of Mulan was a bit of a read for this  – beyond the girl disguised as a boy there wasn't really much in tandem with the Disney tale – it was so well done. The trademark lyrical and atmospheric writing of Ahdieh takes on a whole new world and I can't wait to see more of it.
The main character, Mariko, is very contradictory in a very intruiging way. She's very analytical and thinks everything through to the detail, yet she's earnest and almost childish in her hunger for adventure. She's always thinking, weighing her options, looking for moments to strike, while at the same time completely out of her depths in the battles she choses. She's fascinating in how well she sensors herself, but it's also clear that Okami and Ranmaru – the two rebel leaders – can see through her most of the time. She's a complex character, and shows a lot of growth, first in outbursts of emotion or thought around Okami, then in the slowly altering perspectives from what she's been taught and kept naïve about.
While this is a fictional world, the influences of imperial Japan are really well done. Specifically the importance placed on honor and loyalty. Furthermore I really admire any author who is able to blend the setting of an ancient place, while keeping language and actions modern enough for us to relate to well.
Beyond Mariko, all of the characters are incredibly complex and nuanced. Okami is a fast favorite, as the mysterious bad boy usually is, but he's got so many layers to unravel. He's instantly intriguing in the obvious power he contains and the cunning and intelligence behind his lazy façade. The dynamic he and Mariko have with constantly challenging each other shows how evenly matched they are. It's also obvious they feel a connection, which is interesting to watch given the circumstances. Her brother Kenshin is obviously devoted to his sister, but it's clear he is also devoted to maintaining the image of a proper samurai and member of the upper echelons of society. He goes through some intense internal struggles and I look forward to see how he continues on in the following book(s).
Pretty much all of the characters, no matter how primary they are, are full of nuance and mystery, but I would be writing forever if I went into all of them. The political climate is slowly unraveled, presenting us with layers of subterfuge and treachery from a power hungry leader who sees himself as only doing what's necessary to maintain rightful control. And as we see glimpses of his sons, you realize how much further that ambition goes. Is anyone not trying to make a power move?
Overall this was amazing, and I can't wait to get my hands on the next installment.