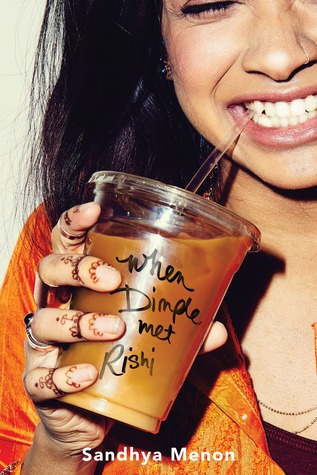 Goodreads Synopsis:
Dimple Shah has it all figured out. With graduation behind her, she's more than ready for a break from her family, from Mamma's inexplicable obsession with her finding the "Ideal Indian Husband." Ugh. Dimple knows they must respect her principles on some level, though. If they truly believed she needed a husband right now, they wouldn't have paid for her to attend a summer program for aspiring web developers…right?
Rishi Patel is a hopeless romantic. So when his parents tell him that his future wife will be attending the same summer program as him—wherein he'll have to woo her—he's totally on board. Because as silly as it sounds to most people in his life, Rishi wants to be arranged, believes in the power of tradition, stability, and being a part of something much bigger than himself.
The Shahs and Patels didn't mean to start turning the wheels on this "suggested arrangement" so early in their children's lives, but when they noticed them both gravitate toward the same summer program, they figured, Why not?
Dimple and Rishi may think they have each other figured out. But when opposites clash, love works hard to prove itself in the most unexpected ways.
This book was so adorable. I needed something swoony and lighthearted and this fit the bill, with some surprisingly poignant cultural commentary.
I really enjoyed watching these two characters, who are both so sure of who they are and what their priorities are, learn they may not have all the answers at eighteen. They bring out such sweet traits in the other, and while doing so learn to find a balance in their own areas that were a bit intense. Rishi becomes more empathetic towards his brother, while Dimple learns to appreciate her parents a bit more. They both learn that they can follow their passion without leaving behind those they care about. And the most interesting aspect for me, they both find a balance between the culture of their parents and that of their home – the U.S.
Beyond the adorable swoon moments, the times when I was literally laughing out loud (I scared the dog), and the teen drama; there were such deep investigations into the life of Indian immigrants. Not only are we seeing the different views of a similar situation with Rishi and Dimple, but we are getting a completely different and detached perspective from the secondary character Hari. I really appreciated the moments where Hinduism was explained and when Rishi talked about how important his family's history was to him. Not only did I learn more about a corner of Indian culture, I was reminded of my own families immigrant status and how their cultures have influenced my life.
Menon did a fantastic job of  not only creating a thoroughly enjoyable book, but filling it with meaningful content that triggers discussion – such a critical element I think for any book.