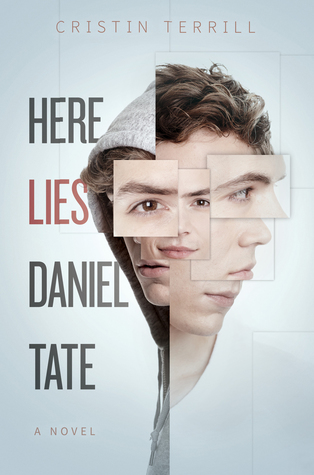 Goodreads Synopsis:
A young, street-savvy runaway looking for a place to call home realizes he might have conned his way into the wrong family in this fast-paced and thrilling novel from award-winning author Cristin Terrill.
When ten-year-old Daniel Tate went missing from one of California's most elite communities, he left no trace. He simply vanished.
Six years later, when he resurfaces on a snowy street in Vancouver, he's no longer the same boy. His sandy hair is darker, the freckles are gone, and he's initially too traumatized to speak, but he's alive. His overjoyed family brings him home to a world of luxury and comfort he can barely remember. In time, they assure him, he'll recover his memories; all that matters now is they're together again. 
It's perfect. A miracle. Except for one thing.
He isn't Daniel Tate.
He's a petty con artist who accidentally stumbled into the scam of a lifetime, and he soon learns he's not the only one in the Tate household with something to hide. The family has as many secrets as they have millions in the bank, and one of them might be ready to kill to keep the worst one buried.
I loved Terrill's debut All our Yesterdays, so I was looking forward to this when I heard about it coming out.
The structure of this is not very standard, there are no definitive chapters, only breaks after scenes. This style worked really well to enforce the stream of consciousness and varying opinions the protagonist expresses and made this hard to put down.
The Tate family has such a strange dynamic and it's clear that it's not as perfect as it looks on the outside, but we are only ever privy to rare glimpses of what's going on underneath. On top of that, the layers of Danny are so confusing, especially when we start to draw parallels between him and the 'real' Danny. His imagination is so vivid that when he starts to superimpose the things he's thinking onto the real world the lines begin to blur as to who he thinks he is and how he fits.
The relationships he fosters with Nicholas and Ren are what begin to unlock everything for the reader. He feels the most real when he's with these two, and we get the most honesty from him while he's with them. I began to see him as an individual, he starts to feel that way about himself, and starts craving the possibility of living out a life in the world of the Tates.
As things begin to unravel with the rest of the family it gets even more twisted. The relationship between Patrick and Lex was something I was suspicious of from the start, and the way Jessica interacts with her family was so hot and cold. The way things unraveled wasn't necessarily surprising, but shocking none the less. I really liked the ending too, things are left kind of open, letting you imagine the story is one of several options, but I like to think that the one told is the real one. It provides a level of closure for all parties, and there is some sense of justice.
Basically, another solid story from Terrill, I cant' wait to read what she does next.