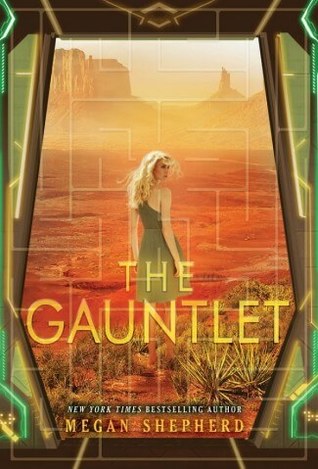 Goodreads Synopsis:
Cora and her friends have escaped the Kindred station and landed at Armstrong—a supposed safe haven on a small moon—where they plan to regroup and figure out how to win the Gauntlet, the challenging competition to prove humanity's intelligence and set them free. But Armstrong is no paradise; ruled by a power-hungry sheriff, it's a violent world where the teens are enslaved and put to work in mines. As Nok's due date grows closer, and Mali and Leon journey across space to rescue Cassian, the former inhabitants of the cage are up against impossible odds.
With the whole universe at stake, Cora will do whatever it takes, including pushing her body and mind to the breaking point, to escape Armstrong and run the Gauntlet. But it isn't just a deranged sheriff she has to overcome: the other intelligent species—the Axion, Kindred, Gatherers, and Mosca—all have their own reasons to stop her. Not knowing who to trust, Cora must rely on her own instincts to win the competition, which could change the world—though it might destroy her in the process.
I did not reread the previous two books before I started this finale, and it left me feeling very unconnected with the characters, or interested really. I was not in the mood for this type of book when I picked it up, and I know that affected my view of it because I enjoyed the previous two in the series, as well as Shepherd's other series.
This picks right back up from where the second one left off and I felt a little lost at first, but pretty quickly got back into the swing of events and the new goal. The time spent on the moon with the human colony didn't make much sense to me until towards the end of the book. I felt like we were wasting time in the beginning and I think there could have been some altering to the timeline to pick up on what our main threat was faster. When the twist is revealed and we find out what the main threat is, it brings in a whole other layer of subterfuge, and I would have loved to see that revelation earlier in this book.
Though I was a bit underwhelmed with the pace of this finale, I was pleased with the amounts of growth all of the characters are going through. Leon is finally seeing himself as a good guy and trying to act like one; Rolf and Nok have let go of their selfish naivety and are taking on leadership roles; and in general they all coming full circle, learning how to use their best skills to represent humanity and achieve the goals needed in their own personal and group challenges.
While I had hoped Cassian would have a larger role in this, when he is back I really enjoyed the interactions between him and all of the group. The end of this was bittersweet, but it really fit with all of the characters and their personalities. I would have loved an epilogue though!
Overall this was a satisfying ending to a good series. I think I will enjoy it better on the second go around.